The ISES-WOW concept is not finished with the presentation of the Poster and the packages yet.
Currently we are:
Developing further educational materials, tools and guidelines at the moment especially for other more experienced equine performers.
Developing and testing at Dutch competitions an assessment tool for a quick assessment of horses and riders warming up before a performance, which could be used by (ring) stewards.
In collaboration with dr. Andrew McLean and our ISES chair dr. Janne Winther Christensen we are working on a pocket-size booklet in which we together give more indepth information about a sustainable and welfare friendly way to keep (food and shelter), raise, prepare and train equines. An additional tekst will be written to all of the 100 cards of the WOW poster. Also this pocket book will contain more tips & trics derived from practicing with the WOW concept and more.
And off course we have not yet covered all elements of learning theory and so we like to design more pictures/concepts and think of more tips how to apply them in practice.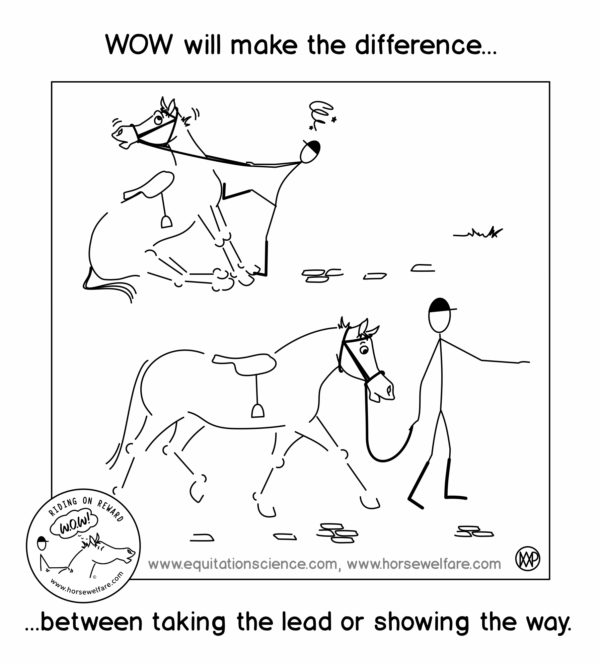 Equus Research Projects
Implementing the EPWA pain assessment app for horses and donkeys
Implementing the Dutch assessment tool developed which can measure the welfare of different equine facilities (Machteld van Dierendonck has presented the scientific results of (parts of) this tool at different ISES conferences.).
One of the future aims of the ISES – WOW project is to initiate some robust studies in order assess the WOW approach scientifically. We also would like to do some other additional scientific studies to assess the impact of different essential elements of the project.
Robust scientific studies are essential in the ISES Mission and aims (see https://equitationscience.com/about/mission-and-aims)
Both the development and scientific studies are not for free. We developed the whole WOW concept voluntarily and have not yet received any funding for the development, neither the cost were covered. So …
…to reach all these goals we need your help: we like not to just give away all what we have developed, but we like you to charge a very small fee for the additional packages we developed. Of course the poster itself stays a free download.